Following are a few letters and some comments on our services and guides, from those clients who have ever received our services in China recently.

An email from Floyd Kondo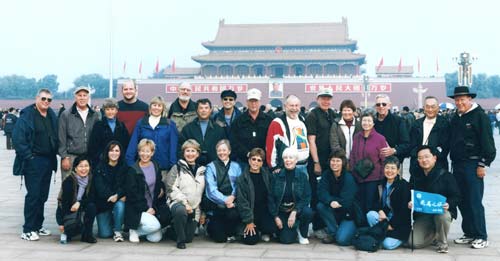 Good Morning Mark: Things are finally back to normal after a couple of days of washing and ironing clothes, putting away purchases and gifts etc. Thanks to you for putting together such a wonderful trip for us. Regarding the trip for the many wonderful days it lasted, everything was close to perfect. A couple of comments that I wish to make:

1) Mr. Yang in Beijing: Mr. Yang did a marvelous job trying to keep our group happy. When a couple of the meals were not to most of their liking he and Rainbow tried to make the next better.

2) Xian: Rainbow was her usual attentive self and saw that everything went well. Everything was perfect in Xian but could have used another half day as things were quite rushed.

3) Shanghai: Mr. Gong was very good to have as a guide. His sense of humor was refreshing and presentation of things in Shanghai were excellent.

4) Suzhou: Mr. Wei was okay.

5) Hotels were beyond our expectations. When I first saw the hotels you picked for us I could hardly believe my eyes, especially the Palace in Beijing. I was in the lobby once but never dreamed I would ever stay there. All the hotels were great but the best hotel according to everyone was the Sheraton in Suzhou. That hotel was great and too bad the weather was so bad as this hotel is really a resort with all the facilities one would need to relax and be active including tennis courts. Do not get me wrong, all the hotels were excellent and the breakfasts proved were wonderful.

5) Amenities: Providing water and beer at lunches and dinners was totally unexpected. I told everyone before the trip alcohol and water would have to be purchased as my experience on other trips to China this was not provided. That was nice of you and the group appreciated this.

I would like to say thank you for putting together such a good trip for my friends. They all had a wonderful time and all that made comments to me stated this was their best trip/vacation ever. So take pride in your work as you did a great job and everyone got their money worth and more.

We all had such a good time I am canceling my bike trip to Europe next year to put together a group to go to TIBET. Looking on the internet they indicate the best time to travel there in May or October as summer tends to be the rainy season. I am looking at early October with a group of 14 to 24. Many of the same group indicate they would like to go. Could you put together a package for me and my friends and I will have to look to you for guidance? I asked Rainbow if she would like to be our national guide and she stated she would and we would love to have her. I do not know how long one stays in Tibet but maybe a week there and a week in another couple of cities including the departing city, Beijing or Shanghai.

Again Mark, thank you for this trip and looking foreword to doing another with you. By the way Mr. Yang asked me to send by email our group picture taken in Beijing. Do you still want this?

See you again someday and if you and your wife decide to travel to the Pacific NW of the USA, please let me know as you have a friend here that will take care of you.

Floyd Kondo

Hi Mark and Success:

Sorry I'm taking so long in getting back to you after our return. Everyone returned safely and Kyle is in Japan starting his new job. I want to thank you for putting this last trip together for us and want to apologize for my unkind words to you when in Tibet. I had no reason to yell at you as it was not your fault. Sorry again. Janet and I had colds at the end of the trip and it's taken until now to get of the cold and jet lag.

As for the trip it was wonderful but a little difficult for people in our age group. 2 of our members suffered from altitude sickness but recovered when returning to lower altitudes. The bus rides were a little tough throughout the entire trip except on the freeways. The trip to the Panda Reserve is very rough as a new dam is being built so half the ride is on bumpy unpaved highways. The reward after this trip was the Panda Reserve. For most this was the highlight of the trip. Most took pictures with a panda on their laps while I paid extra and went into the 8 and 9 months old pens and played with them What fun and something I'll cherish and remember for the rest of my life.

The guides were very good on this trip. They were informative, kind and very thoughtful to all of us. I know what guides have to put up with and they handled everything very well. Please thank Tasi (Tibet), Sparrow (Chengdu), Jamie (Chongqing) and especially Frank in Beijing.

The hotels you picked for us were wonderful. There was only one other couple that made the trip with us 2 years ago but there were others that had been to China with us before and they all raved about the hotels, meals and the services that you provided. Thank from everyone to you and Success.

It looks as though we can get a pretty good group together for the Silk Road. I hope it is a little easier than Tibet. When you have time would you send me a sample itinerary for a trip to the Silk Road. I imagine it starts in Beijing or Shanghai, onto Xian but do not know what happens afterwards.

Thank you for the wonderful gifts. The scroll is quite long and I have to find an appropriate place of honor for it. We haven't tried the tea yet but will.

Mark, please take care of yourself and let me hear how you're doing.

From Your good friends in America................Janet and Floyd Kondo

Email: floydk@comcast.net

Dear Mr. Mark Yu,

I want to thank you very much for operating our 24-day China tour for my family. Thanks to your help as well as your local operators in each city, all five of us had a wonderful time and enjoyed a trip with minimal worries.

Right from the start, I was impressed with your quick response to my initial requirement list. I gave the same requirement list to a few different travel agents. Your turn around time was the shortest and your proposal was the best, satisfied most of the requirements, and was within budget.

I have to admit that initially, I was quite nervous about booking the entire trip through email and trusting someone whom I've never met. As time went on, with every email, I gained more and more trust in you. Now that I've completed the entire trip, I have no more reservations, and have only praise for you. You have been very professional, responsible and wonderful. The only regret I have is not being able to meet with you in person while we were in Beijing.

During the 24-days, we were received warmly by 8 different local operators. Every single guide were fluent in English and was very knowledgeable. We had no trouble understanding them, and we learnt a lot during our sight-seeing visits. The drivers were very good and the vans were comfortable, especially the van in Suzhou. We were particularly grateful to Ms.Yan in Suzhou, who helped us arrange for the luggage service. Our luggage was promptly picked up at the hotel, checked into the train, and arrived safely in the next destination (Hangzhou) without any worries.

The sightseeing places in each city were well chosen and we thoroughly enjoyed them. The Yangtze River Cruise was another major success. Thank you for your recommendation on picking MV President I over the many choices of cruise ships. We were very happy with the decision. The itinerary of the cruise was great. The staff on the cruise were friendly and wonderful. We were also quite satisfied with the accommodation. Having a junior suite and the next door cabin connected by a private balcony was a very clever way to meet our requirements. We had a great time on the cruise. The Dam Project was very impressive. We look forward to visiting the Yangtze River again after the Dam is completed.

As with every trip, unexpected things happen. I was impressed with how swiftly things got resolved once the problems emerged. The first problem in our trip started 10 days into our trip. The Yangtze River Cruise Ship was delayed by fog and could not reach Chongqing in time for us to catch our flight to Shanghai. I called Mr. Yu as soon as I found out, and within the next couple hours, after exploring different flight alternatives, Mr. Yu and the captain of the MV President I resolved the problem by specially docking at a city about 1 hour bus-ride away from Chongqiing, to let us off, while Mr. Yu sent our Chongqing guide to pick us up, and then drive us to the airport. It was quite an adventure, but at every step of the way, we were accompanied by representatives, first from the Cruise, and then the local operator. Other than the time crunch which caused some anxiety, everything went quite smoothly and we reached the airport with ample time to spare. While waiting for the bus to arrive, we even visited an old lady who lived by herself in a little house. It was very interesting to see first-hand what live is like for a Chinese old lady, and also to understand how the Yangtze Dam Project affected her live.

There were a few other minor problems, and every single one was resolved very swiftly and professionally. I have to thank you, Mr. Yu, for your being so responsive and responsible.

The hotels that were chosen were nicely located, especially in Bejing, Shanghai, Hangzhou, and Guangzhou. We particularly enjoyed being able to walk to the "walking streets" on the few evenings when we have free time in the above mentioned cities. Walking around Westlake was, by far, the most memorable of the walks on our own. In spite of being 4 star hotels, the Prime Hotel in Shanghai and the Holiday Inn Golden Mile in Hong Kong exceeded our expectations in terms of the services they provide as well as their location. Holiday Inn also had a fast internet connection in the room which made my husband very happy.

Food and cleanliness was one of my major concerns because of the lengthy trip and young children. The local guides were very aware of that and brought us to very nice and safe restaurants. Except for a few minor tummy aches, nobody got sick from the food. On the days when we have dinners/lunches on our own, the guides gave excellent recommendations. One dinner we thoroughly enjoyed on our own was in Hangzhou. We ate famous local cuisine like Beggar's chicken, Longjing shrimp, Westlake fish in vinegar gravy, etc... at Lou Wai Lou Restaurant, which was a short walk from our hotel.

As you can see, Mr. Yu, you did a wonderful job and we are very satisfied clients. I have been telling my friends about my experience with you and I sincerely hope that you will get more business from them should they decide to visit China.

Thank you again.

Sincerely,

Marguerite P.

MARCUS BLAKE SIERRA

.7275 Anakua Street, Honolulu, Hawaii 96825
.E-mail: Marcus_Sierra@yahoo.com


December 9, 2001


Mark Yu, Manager
Success China Tours
Yi20 Fuxinglu Street, Beijing 100036

Dear Mr. Yu:

The seven of us would like to thank you very much for your excellent planning and service in putting together our two-week tour across China. My family and I had such a wonderful time. Everything that you booked for us matched our specifications, from the flights and cruises to the hotels, ground transportation and English-speaking guides.

Your English-speaking guide, Jenny, was excellent. She made herself available to us even at night when we needed to communicate with the hotel staff. She enhanced our enjoyment of the Shaolin Temple and Dengfeng sights so much that we asked your local contact in Chengdu to add another guide for our trip to the Panda Breeding and Research Center. The additional guide, Louis, met us in Chengdu the next morning and gave us an incredible tour of the Panda Center and of Wuhou Ci. My son especially liked Louis' stories of Liu Bai. I also want to let you know that your tour drivers were all very friendly, prompt, considerate and safe and their vehicles were always in new and clean condition. We were especially happy about the 20 person van that picked us up in Zhengzhou. It was first-class.

My brother and sister-in-law would also like to express their appreciation for helping them when they needed to divert from the itinerary and fly to Hong Kong earlier. Your local contact, Lucy, delivered the new tickets in the morning and also put them in great seats for the flight to Hong Kong. We also would like to thank you for helping us to revise our flights and hotel arrangements with only a few hours notice when my parents decided they wanted to spend an extra day in Guilin. That extra day in Guilin was their favorite day of the trip.

Mr. Yu, I am very glad that we discovered your tour company in Beijing and that we booked our tour directly through your company rather than through an agency in the United States. Your personal service and extensive network of contacts with CTS agents all over China proved both incredibly reliable and extremely resourceful. I feel that we received a great deal of quality and value for our money and that you provided us with the type of direct and first-hand service that only a reliable tour operator in China can provide. Thank you. We will highly recommend your company to all of our friends and relatives in California and Hawaii.

Best Regards,

Marcus B. Sierra and Family
Honolulu, Hawaii and
San Francisco, California

Attachment: Family photo in Chengdu



Dear Lucy:

Your group of 10 have safely returned home. Now that all the dirty laundry is done, we have slept a little, gone back to work etc., we can begin to collect our wonderful memories.

I want to let you know how much we enjoyed being with you on our China trip.

While this type of journey is a dream of a lifetime, your kind, thoughtful and energetic leadership took this trip to an outstanding level. While we have not yet sorted through our pictures, I know that they will be a lasting reminder of our wonderful trip.

How are you doing? Is work very busy for you now? Have you had any more clients who have made you laugh as we did?

Just so you know, we are practicing our Chinese (poor as it is) at every opportunity. Grace (Bob's partner) really got a kick from Bob's new language skills.

All in all, life has returned to "normal" for us. Jennifer will start school next Monday. This week she is working with new students entering her school and trying to get some of her college applications started. Bob and I are back to work and all the things we usually do. We could surely use a foot massage right about now !!!!!!!!!!

That's it for now. Please keep in touch. Thank you again for making our trip to China so special.

Joan


We would thoroughly recommend Success China Tours to anyone visiting China.

Right from the beginning, the skills of our tour organiser, Lily, were excellent. The choise of sights to see and hotels were good, Our 2 person tour covered 12 days in Beijing, Xi'an, Guilin and Shanghai. Because the tour was so good and left a good impression we will be returning to China in the future to see toher places.

Thank you again Success China Tours and good luck for the future.

Roy & Lyn Jamieson



Hello Lily

Hope you are well. I know it has been a long time since you heard from us but I just wanted to say a BIG THANK YOU for helping with organizing our China trip in June/July this year. Your advice was very good and the holiday was absolutely wonderful. All the arrangements went so smoothly and the tour guides (and drivers) were all very professional and friendly.

Please pass our thanks on to Success China Tours and their staff for the expert service, especially Ting-Ting in Shanghai, May in Suzhou, Sunny in Beijing, Michelle in Xian and Owen in Guillin. Everybody's English was superb and we would not have got along without them. They were very informative and offered a lot of information on not only the country's history, but also the people, food, entertainment, lifestyle, culture and traditions. We shared lots of humour and had some good laughs along the way too. The transport was impeccable and we could see the drivers take pride in their vehicles (very clean and in good condition) so please thank them too. Their driving skills were very good in all that traffic.

Your country of China is a very beautiful place, and so are the people of China. Our friends ask us which is the best place we visited in China, but the answer is they are all so different and all so wonderful. The cities are very much larger than our cities in South Africa, and the history and culture goes back so far! We loved the bright colourful lights and huge buildings in Shanghai, the beautiful canals and gardens in Suzhou, the magnificent Forbidden City and Great Wall in Beijing, the amazing Terracotta Warriors in Xian and the beautiful scenery and relaxed atmosphere in Guillin. And these were just the highlights!

The variety of food was also enormous and very tasty - dumplings, spicy Sichuan cuisine, and my personal favourite - the Peking duck. However, it was a good thing that the tour guides helped us with translating the menu and ordering the food! I remember one occasion when Derek tried to act like a shrimp when he wanted to order a second helping!! Believe it or not, we found that chop sticks are much better to use than our silly knives and forks. We definitely put on some extra kilograms on this trip!

I won't even mention the shopping!! I bought an exquisite silk tiger embroidery painting in Xian and we also shipped some terracotta warrior replicas (from Xian) and some silk merchandise (from Suzhou) back to South Africa. As can be expected from China, everything has arrived safely and promptly. Unfortunately we had to pay many taxes and duties on the merchandise in our country, but we are still pleased with what we
bought.

Please accept my sincere apologies for not contacting you sooner. Things have been very hectic for us since we returned from our holiday and I have been delaying contacting you because I wanted to send you some photos of our trip at the same time. But I have still not sorted all the photos out (we took very many), so I will rather forward them to you (and the tour guides) at a later stage. From our trip we realized
that things happen a lot slower in Africa than they do in China!!!

We are very grateful for the opportunity to experience your wonderful country of China. We are definitely recommending a China trip (and Success China Tours) to all our friends and colleagues in South Africa. We have learnt a lot from our trip but there is still so much to see in your country. Now that we have a good overview, we would like to experience more of the day-to-day life and out of the way attractions (instead of just the major tourist spots) as well as other parts of your enormous country that we never visited this time. Hopefully we will be able to return some day soon...

Kind regards

Roanne & Derek Lahee



Hi Lily,

Well, I am back safe and sound in the U.S. as of last night (Sunday). A bit tired, but all in one piece.

I again wanted to tell you how wonderful this trip was and how happy I am that I chose a reliable, well organized Travel agency such as yours. It went well due to your persistence for excellence with my itinerary and giviing the client what they wanted. You also have quality personnel in your other cities who strived to make my trip very pleasant and safe.

I know that we threw some additional travel needs at you unexpectedly and you came through for us with flying colors.. We did that because we felt comfortable with you and your organization.. Thank you for that too. All went very smoothly.....

My husband and I will definitely recommend you and Success China Tours to all of our friends. We hope to use you again on our next trip to China some time in the future.

If you put together any travel packages to Beijing for the 2008 Olympics, please let us see the itineraries and prices... (If you do this give us the information by 2007, at least 1 year ahead of time)

Again, thank you for this terrific experience! Hope to hear from you from time to time.

Sincerely,

Marcy :)



Dear Lily,

Sincere thanks on behalf of my friend Michael Nolan, my wife Shirley and myself for the exceptionally well arranged tour.

The tour exceeded our expectations in terms of transport, accommodation, entertainment, food, site-seeing and the many other aspects which make a holiday perfect.

None of the above would have been possible without your help and the excellent service provided by the guides in each of the four towns we visited ie Stanley in Beijing, Lucy in Xian, Candy in Shanghai and Mi in Suzhou.

I would appreciate it if you can convey our thanks to the above guides.

Thanks once again for all your help and I will take pleasure in recommending your Company to others from Australia who are interested in visiting China.

Yours sincerely

Denzil



Dear Lily:

My wife, Shula , and I have just returned from our China/Japan trip and want to thank you and your Beijing and extended suppliers throughout China for the wonderful two weeks we spent in China and the most dedicated and professional service we received from our guides in Beijing (Alex), Xi 'an (April), Lhasa (Jim), Chengdu (Lily) and Shanghai (Ping Ping) and their respective drivers. I make these comments as a marketing research professional whose practice includes customer service quality fulfillment evaluation. Of particular importance is that all of our arrangements were made with Success Tours via E-Mail and everything was actually delivered as promised and more.

Best personal regards,

Stanford Klapper