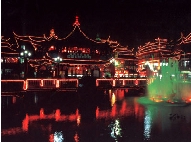 Yuyuan Garden, maybe the most celebrated classical Chinese garden in Shanghai, is located in the northeast of the old town with an area of fives acres. In 1559, a Ming official named Pan Yunduan launched the construction of this private garden for his father's pleasure. The construction lasted for 19 years. Later, due to the decline of the Pan family, the garden gradually fell into oblivion. Furthermore, several civil conflicts in the mid-19th century caused great damage to it. After several large-scale re-constructions since 1949, Yu Yuan was finally opened to the public in 1961. The garden each year attracts countless visitors at home and abroad.

Built in a style that Suzhou gardens often take, Yuyuan garden is characterized by exquisite layout, beautiful scenery and the artistic architecture. Each pavilion, hall, stone and stream in the garden can express the quintessence of South China landscape design from Ming and Qing dynasties.

The bounding wall in the garden, decorated with dragon's heads and paved by scalelike tiles on top, looks like a huge wandering dragon. People named it Five-dragon Wall. More interesting is that each dragon in this wall only has four claws. Legend goes that when the wall was first completed in the Qing dynasty, like the dragon in royal palaces, they all have four claws. The feudal ruler, regarding it as a sign of irreverence and rebellion, then cut one of the claws of each dragon.

There are totally 30 scenic spots scatter in this garden. Five-dragon-wall subdivide the garden into six spots including Grand Rockery, Ten-Thousand-Flower Pavilion, Hall of Heralding Spring, Hall of Jade Magnificence, Inner Garden, and Lotus Pool.

Grand Rockery: with a height of 14 meters, this rockery is built about 400 years ago with about 2,000 tons of rocks, featuring perilous peaks, cliffs, winding caves and gorges. It was said that it is the highest rockery in Shanghai as well as the most magnificent rockery in southeast China during the Ming dynasty. Today, ascending the rockery, people can make a comprehensive survey of the garden.

Hall of Heralding Spring: located in the east part of Yuyuan garden, this pavilion was built in the early years of the Emperor Daoguang's reign. In 1853, it once served as the seat of the Xiaodao Hui, the Society of Little Swords, who led an uprising against Qing rule and occupied Shanghai for 17 months. Today, weapons and coins made by the Xiaodao Hui are exhibited in this hall.

Inner Garden: originally built in 1709, this garden used to be a garden in Chenghuang Temple. In 1956, when the garden was restored, the east garden and west garden were combined and the inner garden formed. Attractions in Inner Garden include elegant rockeries, ponds, walls, etc.

The garden is acknowledged as "an architectural miracle in the region south of Yangtze River".