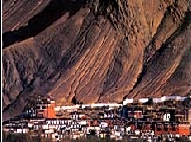 Xigatse, 280km to the west of Lhasa, 3,800 metres above the sea level, is the second largest city in Tibet.

It is located in the southwest of the confluence of Transpo River and its tributary. Just as described as the Fertile Land in Tibetan language, its agriculture and animal husbandry now plays an important role in Southwest Tibet. It is a city full of hotels and inns, where people traveling from Lhasa to Nepal, or from Nepal to Lhasa have to stay overnight.
The most attractive in Xigaze is Tashilunpo monastery, which was the seat of Panchen Lama, who was equally important as Dalai Lama. Stupa of the 10th Panchen Lama who died in 1989 was kept here.