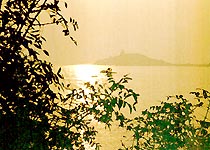 Wuxi lies to the north of Thai Lake, in Jiangsu province. It is one of the important industrial areas in China. It is 4650 square kilometers in area and the population is 4240000.

Wuxi is in the plain area, the southern part of it is hilly areas, and there are a lot of rivers and lakes. It belongs to monsoon climate of inferior torrid zone. The annual temperature is 15.5, the annual precipitation is 1100mm, and the blank frost period can last 239 days. In Wuxi, the water and soil resources are abundant, and also, there are some other mineral resources, such as marble and lime stone.

The county industry in Wuxi is the most developing area in China. Wuxi is the main center of cotton textiles and one of the important bases of machine and electron industry. The pottery production of Yixing is famous both in China and abroad. Dingshu Town is the main producing area and it is called the city of pottery. The agriculture is developing, there is rice, fresh-water fish, cocoon, fruits and so on. It is the famous land of fish and rice in our country.

Wuxi is one of the important hubs of water transport and land transport in Jiangnan area. The railway, inland water transport and highway are developed. Also the airplanes here can take you to Beijing and some other cities. Thai Lake scenery area that crosses Wuxi and Suzhou is one of the important places of interest in China. Thai Lake is the third biggest fresh lake in China, there are many islands in the lake, and the scene is very beautiful. In addition, there are some other places of interest, such as Yunv Pool in Yixing, Dongpo Hall, Xingguo Tower in Jiangyin, Xuxiake memorial hall and so on.