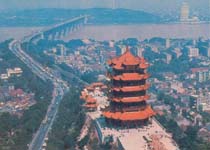 Wuhan is described as the "Homeland of White Clouds and Yellow Crane" The Yangtze River and the Han River join here,dividing the city into three towns: Hankou, Hanyang and Wuchang. Wuhan has many scenic spots and historical sites. Among them are the 2,400 years old Zenghouyi Chime Bells known as one of the world wonders; the 1,700 yearsold Yellow Crane Tower, one of the three famous towers in South China: the East Lake whose natural beauty rivals that of the West Lake in Hangzhou;the TY Tower on Tortois Hill known as the highest mast of Asia; the ancient Guiyuan Temple, and the modern International Amusement Park.

Wuhan lies on both sides of the Yangtze River. From Wuchang on the south-eastern bank, the city spreads across the Yangtze to the sectors of Hankou and Hanyang, the two separated by the Han River.

The city's south and north end were respectively linked by the Yangzi bridge and a new bridge. A shorter bridge spans the Han River to link Hanyang with Hankou.

The city's real center is Hankou, especially the area around Zhongshan Dadao. Most of Hankou's hotels, department stores, restaurants and street markets are within this sector, which is surrounded by quieter residential areas.

On the other side of the river, Wuchang is a modern district with long, wide avenues lined by drab concrete blocks. Many recreational areas and the Hubei Provincial Museum are on the Wuchang side of the river. The city's second railway station is in Wuchang.

Wuhan is now enjoying a boom in foreign and local investment that may help it catch up to the comparatively sparkling cosmopolitan citadels of Nanjing and Shanghai.

Wuhan tends to be seen merely as an embarkation or disembarkation point for the Yangtze River cruises, but the old city center, improved recently, has some attractions.