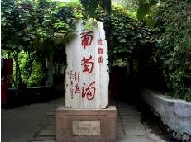 The Turpan Depression, 180 kilometers southeast of Urumqi in the east part of Xinjiang, is one of the few places in the world that are below sea level.

The depression is a long, narrow stretch of land, fifty thousand square kilometers in area, with Bogda Mountain on the north and Kuruktag Mountain on the south. There is a salt lake in the depression, Aydingkol Lake, where the crystallized salt surface is 154 meters below sea level. Another memorable sight is Fiery Mountain, which was described in the classical novel Journey to the West as one of the most dangerous obstacles in the path of Monk Xuan Zang and his disciples as they traveled west to obtain the Buddhist sutra. This mountain, which spreads out for fifty kilometers, is formed of red sandstone that glows red in the sun. Because of the drastic (five-thousand-meter) difference in height between the mountaintop and the bottom of the depression, the scenery, too, varies greatly at different altitudes-from perpetual snow at the summits to green oases at the foot of the mountains. After a long journey from the desert, tourists are always fascinated with the strange beauty of the depression with its snow-capped mountains, its salt lake, and particularly its Fiery Mountains.

Turpan is not only special for its low altitude, but also for its strange climate. In summer, the temperature can reach as high as 47ºC (117ºF), while on the surface of the sand dunes, it may well be 82℃ (180℉). It is no exaggeration to say that you can bake a cake in the hot sand. The average annual rainfall is little more than ten millimeters; sometimes there is not a drop of rain for ten months at a stretch. Days are exceptionally sunny throughout the year; nut people say it is not difficult to endure the heat of the day when you known the night will be cool.
The hot, dry climate is especially beneficial to sugar crops. Fruit trees, melons, and particularly grapes grow very well in the Turpan Depression. Every year, more than a thousand tons of grapes are exported to foreign countries.

Turpan used to be an important strategic point on the Silk Road. As early as two thousand years ago, a town called Jiaohe was built forty kilometers from today's town of Turpan. Jiaohe then was the capital of the Outer Cheshi Kingdom. During the first century, Jiaohe came under the rule of the Han Dynasty. During the sixth century, Turpan was under the administration of Gaochang Kingdom. During the reign of Emperor Tai Zong (626-649), the Gaochang Kingdom was conquered by the Tang Dynasty, and Turpan again became a frontier town of China, serving as a stopover for merchants, monks, and other travelers on their way to the west.