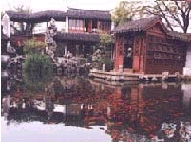 Apart from being endowed with a unique charming vista peculiar to the water township in Southern China, Tongli is rich in both cultural relics and traditional architectures.

Tongli, a picturesque and elegant town, has become world-known for its having wonderful scenery, classic building and precious relics.
Located on the bank of Taihu Lake and the shore of Great Canal, about 18 kilometres to Suzhou, Tongli is a small town with 33,500 population, covers a total area of 62.54 square kilometers. Surrounded by water on four sides, the place looks as if it were inlaid in the center of five lakes including Jiuli, Yeze, Nanxing and Pangshan. The proper of this town is divided into seven blocks by fifteen streams. However, they have been combined into a complete whole by 49 bridges in different shape. With their dwellings built beside the stream, the locals all enjoy the convenience to travel by boat. In such a case, Tongli is acclaimed as one of the well-preserved ancient towns with water scenery in Jiangsu Province.

Tuisi (Pondering Over after Retirement) Garden is one of the major scenic spots in Tongli, Chen Congzhou, a renowned gardening artist, once described Tongli as "a museum of Chinese classic buildings", while Tuisi Garden is none other than a pearl in this museum. In 2000, it was listed as one of Unesco's World Cultural Heritage sites. Endowed with both historical and cultural relics, Tongli has attracted many film and TV makers to use this garden as their permanent base for exterior shooting. As a consequense, ever since 1984, about one hundred works have been produced, including the well-received "The family", "Spring", "Autumn", "A Dream of Red Mansion" and "An Unofficial Biography of Emperor Qianlong". In April 1999, this place was formally designated by the Association of Chinese Film Makers as China Tongli Film Shooting Base.