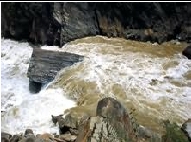 Extending for 15 kilometers from the Jade Dragon Snow Mountain of Lijiang to Haba Snow Mountain of Zhongdian, Hutiao Gorge, with a drop of 3,000 meters, is believed to be one of the world's deepest canyons. The torrential Jinsha River, roaring and crashing over grotesque shaped rocks, produces a thrilling and stirring sight here.

With an elevation of 1,800 meters, the gorge at its narrowest point is only 30 meters wide. It was said that a hunted tiger once made his escape to the other side in a single bound. Hence its name. Formed by the sudden turning of Jinsha River, the gorge, containing 18 rapids, is divided into the Upper Gorge, Middle Gorge and Lower Gorge.

The Upper Gorge is the narrowest section of the whole gorge. A 13-meter-high rock - Tiger Leaping Rock stands in the middle of the river, forming a unique scene in this section. The Middle Gorge is 5 km north of the upper one.

The river drops nearly 100 meters in this section. The Lower Gorge is the most awe-inspiring part of all as well as the best place to enjoy the magnificent scene of this gorge.

Now, here has already become the favorite place of adventurers from all over the world.