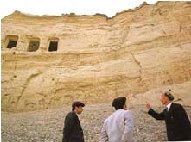 In the cliffs 18 km north of Kashgar lies the Three Immortals Buddhist Caves. Hewn from the cliff some 10 meters above the riverbed, these caves can be dated back to the 2nd or 3rd century, ranking as the earliest Buddhist caves in western China.

With an entrance in rectangle shape, each cave has two chambers. The front chambers are 4 meters in length and width while the rear are half. No murals were kept in the middle cave due to a reconstruction in the Qing dynasty. In the left-hand cave, about 70 murals survived. At the top of this cave painted a Buddha, whose cassock is painted in sapphire blue and chocolate, which is very rare in the earlier Buddhist murals.

The caves are difficult to reach because of the precipitous cliff.

The caves are virtually inaccessible, especially at high-water periods.