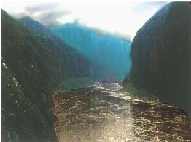 The Three Gorges of Yangtze River extend 193 kilometers from the western Baidicheng in Sichan Province, to Nanjinguan of Yichang city in Hubei Province in the east. They differ from each other in sceneries: Qutang Gorge is straight and craggy; Wu Gorge, deep, serene and exquisite; while Xiling Gorge perilous for its shoals and rapid currents.

Qutang Gorge: From east to west, it measures 8 kilometers, starting from Baidicheng and ending at Daixi township. With vertical cliffs of some thousand meters high as its two flanks, the Qutang Gorge is only a few dozens of meters wide just like a narrow gateway. With swash and rumble, the surging Yangtze River pours into the gateway with great momentum. Looking up towards the tops of towering precipitous mountains along the Gorge, one sees from a boat only a narrow strip of clouds and sky, but under foot the River tears on violently.

Wu Gorge: It extends 40 kilometers from the mouth of Daning River of Wushan Mountain in the west to Guandukou of Badong in the east. The Wu Gorge is gifted with exquisite peaks and lush mountains and ranges. Itís deep and serene with changeable weather. The rolling River twists and turns and boats zigzag their way along, as if cruising in a fantastic gallery.