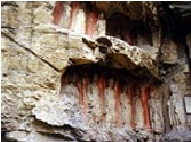 Qianfo Shan (Thousand Buddha Hill), one of the three major places of interest in Jinan, is located about two and a half kilometers southeast of the city.

Buddhism flourished in Shandong Province during the reign of Kaihuang (581-600) of the Sui Dynasty (581-618). Many monasteries were built in the area of Mount Lishan and numerous images of Buddha sculptured on the rocky cliffs. Hence the place came to be known as the "Thousand Buddha Hill", which today also embraces Huangshi Ya (Yellowstone Cliff) and Jueshan (Mount Jueshan) in the south and east respectively.

Thousand Buddha Hill, overgrown with grass and flowers and ageless pine and cypress, from a distance is a huge carpet of green dotted with pavilions, towers and terraces. It is not of impressive height, being only 280 meters, nor does it boast of weird peaks and strange valleys. Nonetheless, its convenient location and picturesque scenery, and the tranquil beauty of the ancient monastery nestled in its bosom, draw tourists by the thousands each year.