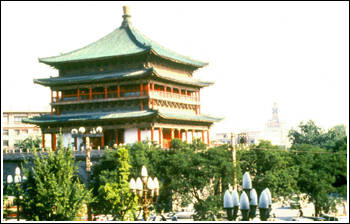 In the center of Xi'an, in the West street, 400 meters west of the Bell Tower, stands the Drum Tower.

The total height of the Drum Tower is 33 meters, in a rectangular shape with tiers of upturned eaves and a gold-tiled roof. It was built in the 13th year of Hongwu period (1380 AD). There used to be a huge drum on the tower, which told time in cooperation with the huge bell on the Bell Tower. There is one of the busiest roads passing through under the tower for traffic to go back and fro in the north-south direction.

The Drum Tower is a very strong and solid building. It has withstood more than ten earthquakes for over 500 years and there is not a single crack appearing on it, and now it is still standing on its original site.