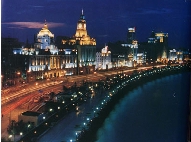 Cruising on the Huangpu River, one can enjoy a sight of rows of magnificent buildings on the banks and ships of different sizes briskly playing Huangpu River, originating in Dianshan Lake in Shanghai, runs its way for about 114 meters and finally flows into the East China Sea in Wusongkou. With a width of 400 meters, the river is an important transporting route.

Boating along the Huangpu River, visitors could take a glimpse of the yesterday and today of Shanghai. On one side of the river is the bund, which is regarded a landmark as well as the birthplace of Shanghai. With a length of 1 km, the bund is dotted with various grandiose solid buildings of western style dating back to the early this century in its west. Due to these imposing buildings, the bund is also reputed as "an international exhibition of architecture". Comparing with the west, east of the bund is a new developing Shanghai.

Now, a 646.7-meter-long sightseeing tunnel, connecting the bund to Oriental Pearl TV Tower, was completed and opened to public in October 2000, through which visitors can experience a marvelous trip under water.