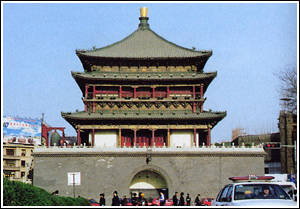 In the center of Xi'an, at the intersection of the north, the south, the east and west street stands the Tower, and to the four dirctions from it along the four streets to the city wall stand four city gate towers.

The Bell Tower is a square-shaped construction with the height of the 36 meters, built on the 8-meter-high blue brick base with for corridors connected together. It occupies and area of 1,377 square meters. The Bell Tower was originally built in the Guangji Street 0.5 kilometer west of the Drum Tower in the 17th year of Hong Wu period of the Ming Dynasty (1384 AD). In 1582 AD, supervised by the city governor Gong Xinxian, it was moved to the present-day site. The tower is five-room long and wide, together with a seven-room surrounding corridor on the upper floor. Three storeys of eaves seen from the exterior of the building, but the interior of the building has only two storeys. The upturned eaves are supported by colorful dougong (a unique of Chinese architectural style). The whole tower is a wooden structure with mortise and tenon jointed without a single iron nail. The three layers of eaves are covered with blue glazed tiles, the beams and columns of the upper and lower rooms are decorated with colour paintings. The top part of the tower is 5 meter high, with a gold-tiled roof. All this makes the tower look magnificent and grand.

The Bell Tower was then used for telling time, and the bell was stricken for 70 times each day. The sound of striking reached far and wide. At present, the Bell Tower is ready to meet visitors from both home and abroad in a new and elegant look.