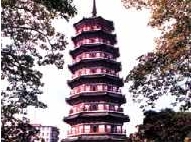 Temple of the Six Banyan Trees, situated on Liurong Road, is a world famous ancient Buddhist temple. It was built in 537 in the Liang dynasty during the Southern dynasties (386-581).

More than 1460 years ago in the Liang dynasty, Tanyu, the master priest, under orders of Emperor Liangwu, built Baozhuangyan Temple to store the Buddhist bones brought from Kampuchea. During the Northern Song dynasty, a great writer - Su Shi, on a visit to this temple was attracted by the six banyan trees surrounding it and wrote the inscription "Liu Rong" (Six Banyan Trees). This temple has since been known as Temple of the Six Banyan Trees.

The temple was burned down and rebuilt in the Northern Song dynasty (960-1127).

Flowery Pagoda, built in 1097, is the major structure in this temple. Named for its colorful exterior, the pagoda stands 57 meters high in the center of the temple, having a bronze column with 1,000 Buddhist sculptures on its top. Viewed from outside, the pagoda has 9 stories while in fact it has 17stories inside.

To the west of the pagoda is Grand Hall, a magnificent hall rebuilt in 1983 with an area of 300 square meters and a height of 14 meters. In this hall are enshrined three huge images: Sakyamuni in the middle, Amitabha left and Maitreya right. Elaborately made of brass in 1633 during the reign of Emperor Kangxi of the Qing dynasty, each is 6m high and weighing 10 tons, being the largest existing ancient brass images in Guangdong province.

In the Banyan Garden, there is Hall of Liuzu, where the copper image of Liuzu - the sixth generation of China's Buddhist master was enshrined. This image, 1.8 meters in height and 1 ton in weight, was meticulously cast in 989 in the Northern Song dynasty. It looks like real life, sitting silently with eyes closed.