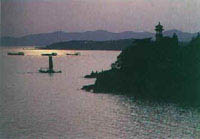 Situated in the southwest suburb of the city, 4 kilometers away from the urban area, Taihu Lake Scenery Zone consists of Meiliang Lake scenery zone and Lihu scenery zone. Meiliang Lake is a bay of Taihu Lake covering approximately 200 square kilometers. It is the best spot of Taihu Lake Scenery Zone with Turtle Head Islet as its main part. Turtle Head Islet was originally founded in 1918. Then Hengyun Mountain village, Guangfu temple, Taihu Lake Villa and Zhen Park were built one after another. In the 1980sí, it was largely expanded and its total area reaches 130 hectare (one hectare (ha) = 2.47 acres).

Luding Hill is at the center of the scenery zone with an elevation of 96 meters. Situated on this are Xizi Pond, Fanli Hall, Jiníou Pavilion, Shutian Attic and Youyou Pavilion. There is an island called Three-hill Island with an area of 12 ha, 3.6 kilometers south of Turtle Head Islet in Taihu Lake. They are miraculous for their isolation, smallness and exquisiteness. The highest peak of Three-hills is named Three Peaks. The Huicui building was constructed on the southern slope of Three Peaks.

On the top of the highest peak stands the Poem Tablet Pavilion, built according to Wen Zhengming, an outstanding scholarís poem about Taihu Lake. Lihu Lake, with another name Five Li Lake, is a bay of Taihu Lake in the northwest, covering an area of 9.5 square kilometers. It is named after the legend of Fanli and Xishi (one of the four beauties in ancient China). Li Garden, formerly Fanliís residence occupies a corner of Lihu Lake covering an area of 8.2 ha.

40% of this area is covered with water. It includes four tourist areas: Four Season Pavilion, the core of the park, South Dan Lakeshore, New District and Rockery Group. Among them, the Old Bridge was constructed by Rong Desheng in 1934. The 375 meter-long bridge links Turtle Head Islet and the urban district. The New Bridge was constructed in 1984.