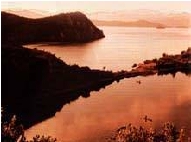 From Dali to Lijiang, about 70 kilometers (44miles) from Lijiang town.

On the upper reach of the Yangtze River, its three tributaries - the Jinsha River, Lancang River and Nu River run parallel for more than 400 kilometers on the deep valley region northwest of the Cross Mountains, forming a well-known scenic spot of "three rivers flowing parallel". Due to the Alpine movements, when the Jinsha River reaches Shigu (Stone Drum) town, it makes an abrupt turn to leave Lancang River and Nu River, and rushes northeast rapidly to form a rare V-shape bend which famous in the world.

With quiet and broad water, the bend has been of strategic importance since ancient times. The famous historical event, such as Zhuge Liang's "Crossing the Lu River in May", Kublai Khan's "Crossing the River on Leather Rafts" all happened here. In May 1936, the Red Army, led by He Long and Ren Bishi, also crossed the river here.

The village of Stone Drum stands by the Jinsha River and faces the great bend. It got its name from a large, cylindrical, marble tablet shaped like a drum. Serves as an engraved memorial honoring the Sino-Naxi victory over a Tibetan army in the summer of 1548, the stone drum is 1.5 meter in diameter, 7 centimeters in thickness. It is one of the earliest stone tablets hitherto found at Lijiang.