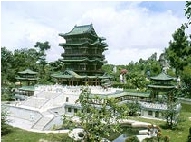 Situated at Overseas Chinese Town in Shenzhen Special Economic Zone, Splendid China spreads over 450 mu of land. Its miniature scenic area, rich and comprehensive, is a most lively replica of China, reflecting long-standing history, brilliant culture, art, ancient architecture as well as the customs and habits of 56 nationalities in China.

It is divided into Scenic Spot Area and Comprehensive Service Area. About a hundred scenic wonders were arranged in the Scenic Spot Area including the Great Wall, life-size Terra Cotta Figures of Soldiers and Horses of Qinling Mausoleum.

In addition, you can see many world's "most" here:
1. the world's most ancient stone arch bridge, Zhaozhou Bridge; 2. the astronomical observatory, Ancient Star-Observatory; 3. the wooden pagoda, Yingxian Wooden Pagoda; 4. the world's biggest palace and Buddha statue, the Imperial Palace and Leshan Grand Buddha Statue; 5. the largest imperial garden, "the garden of all gardens", Yuanmingyuan; 6. the world's longest fresco, Dunhuang Mogao Grottoes; 7. the world's most splendid building located at the highest land above sea level, Potala Paiacel; 8. the world's most wonderful karst landscape, the Stone Forest; 9. the world's most steep peaks, Mt. Huangshan; 10. one of the world s biggest waterfalls, Huangguoshu Falls.

Besides, the famous pagodas, temples, towers and grottoes with infinite variety of beauty and charm, and local houses with rich and colorful customs of nationalities are all found here. Other well-known sights here are the solemn and dignified Huangdi Tomb, the Mausoleum of Genghis Khan, the Ming Tombs, and Dr. Sun Zhongshan's Mausoleum and many more. Emperors praying for good harvests, the wedding of Emperor Guang Xu, a memorial ceremony at Confucius Temple and the local conditions and customs of wedding and funeral are the scenes you won't forget. In the Comprehensive Service Area, you can have a taste of delicious cuisines of Beijing, Sichuan, Jiangsu and Guangdong as well as traditional delicacies and snacks of the country. You can even enjoy the unmatched music of the State of Chu, performance of national songs and dances, demonstration of making traditional articles of handicraft art, and a world rare Cinerama. The endless array of beautiful handicrafts, antiques, herbs and tonics, famous local specialties as well as tourist souvenirs of Splendid China awaits your choice.

Traveling at Splendid China for just one day, you will acquire an understanding of history of five thousand years.