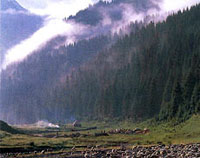 West White Poplar Gully, 75 kilometers (46 miles) south of Urumqi, in the Southern Mountain (Southern Mountains generally refers to the area at the northern foot of Karawuquntag Mountain, a spur of the Tianshan Mountains). Traveling through this narrow verdant gully is a unique experience for sightseers who love natural scenery like snowcapped peaks, dragon-spruce trees and wild flowers.

2,100 meters above sea level, the valley has an annual precipitation of 500 to 600 millimeters. Screened by snow-capped peaks and dotted with tall and straight dragon spruce trees, it is an ideal place to have an excursion. The Kazakh usually spend summer here between May and October and graze their herds Visitors can take a horseback tour guided by local Kazakh. In a traditional yurt, hospital host will welcome you with fragrant milk tea, mare's milk, cheese and roasted lamb. The horse-racing and traditional Kazakh dancing are amazing.

More spectacular landscape comes at the far end of the valley - a 2-meter-wide waterfall cascades 40 meters down, roaring with mist. It makes you feel refreshed and relaxed.

How to get there: Transport to this area can be a problem. There are some buses from the north end of Renmin Park off Guangming Lu.