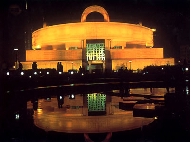 Shanghai museum, established in 1952, is located in People's Square, reputing as one of the four largest museums in China. Covering a construction space of 38,000 sqm, the museum is 29.5 meters high with five floors aboveground and two underground.

Opened to visitors at the end of 1995, the museum contains 120,000 cultural relics of all the historical periods in ancient China, in which collections of bronzes, ceramics, paintings, calligraphy and ancient sculptures are among the best in China.

The main galleries in this museum include:

Gallery of Ancient Chinese Bronze

Bronze ware is regarded as an important symbol of the Chinese ancient civilization. About 440 pieces of ancient Chinese bronzes, including the bronze wine vessel, food vessel, water vessel, musical instrument, weapon and some other vessels from the Xia dynasty to the Warring States Period are exhibited in this gallery. With unique designs and long history, they are marvelous treasure of the Chinese cultural heritage respected highly in the world.

Gallery of Ancient Chinese Calligraphy

Chinese calligraphy sprouted in the Shang dynasty and matured in the Eastern Zhou dynasty. Official script was popular in Han dynasty, while cursive script, regular script and running hand emerged during Weijing Period and flourished in the Tang and Song dynasties. About 100 essential pieces of calligraphy, including original handwritings of some eminent personages, are displayed here, showing the development of Chinese calligraphy.

Gallery of Ancient Chinese Ceramics

About 500 pieces of various fine ceramics from the Neolithic Era to the end of the Qing dynasty are displayed here. A large number of them are the high-quality products from famous porcelain making kilns, some have never been shown before and some are very rare in the whole world.

Gallery of Ancient Chinese Paintings

About 140 pieces of famous paintings, from various dynasties, schools and masters, are preserved in this gallery. With different styles and characters, they embody the colorful and splendid Chinese culture. Even the gallery itself is decorated in ancient architectural style.

Gallery of Ancient Chinese Sculpture

About 127 pieces of ancient sculptures, mainly stone, wood, clay, pottery and cast-bronze sculptures from the Warring States period to the Ming dynasty, are stored in this hall. Chinese Buddhist sculpture and figurine-modeling art is the main subject.

Besides, Gallery of Chinese Furniture, Jades, Arts and Crafts of Minority, Ancient Numismatics and Seals are also worthy of visiting.