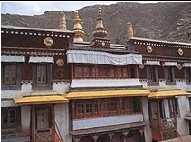 Sera means "Hailstone" in Tibetan, and legend tells that it hailed during the foundation of this famous monastery. Sera was the last of the three principal Yellow Sect monasteries to be built in Lhasa. Unlike Drepung and Gandan, it was not built in a mountainside, but at the foot of the "Wudu Hill" to the North of Lhasa city. It was completed in 1419. Under the supervision of Shaka Yeshe was an important teacher who travelled to Beijing and as far as Mongolia to preach Buddhism. He was given the title "The Tutor of the Empire" by the Ming Emperor, Xuan De.
Many precious gifts were set to sera by the Chinese Emperors of the time, many of which are well preserved and can be seen at Sera to this day.
Sera comprises a great sutra chanting hall, a college and 32 sections. It once housed nearly 10,000 monks and is proud of its glorious history during the Ming Dynasty.
Sera has been listed as one of the P.R.C.ís national cultural relic since 1982.