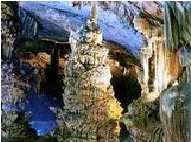 Located 5 kilometers northwest of Guilin city, the Reed Flute Cave is in fact a cave on the southern shoulder of the Guangming Hill (Bright Hill). Got its name by the reeds used for making flutes and pipes growing at its entrance, the cave is regarded as the largest and most impressive cave in Guilin city.

The cave is 240 meters long, whereas the touring distance is about 550 meters, mainly offering a magic fairyland of stalactites, stalagmites, stone pillars, stone curtains, birds, plants and animals in fantastic shapes and colors.

One grotto, which called the Crystal Palace of the Dragon King, can hold about 1000 people. During the war, the grotto once served as an air-raid shelter. Over 70 wall inscriptions from the Tang dynasty (618-907) were found in the walls, suggesting that the cave once been traveled by people in every dynasty. The highlight in this cave is a great slab of white rock hanging from a ledge like a cataract, with a human-shaped stalactite on its opposite.

It was said that a visiting scholar tried to write a poem depicting the beauty of the cave. It cost him so much time to find the right words that he finally turned to stone. Another story goes that the slab originally was the Dragon Kingís needle. The Monkey King used it as a weapon to defeat the dragonís army and finally left it in the cave.

The cave was opened to public in 1962. Famed as the Palace of Natural Art, the cave is now equipped with artificial lighting system to emphasize visiting effect.