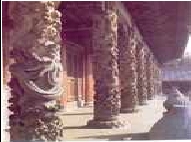 Qufu can be reached by a half hour bus ride from Yanzhou, which is a stop in Shandong Province halfway on the Beijing – Shanghai Railway.
The city has a long history. It is said to be the ruin of the capital of Shan Hao (one if the five legendary rulers before recorded history in China); five kilometers northeast of the city is Shao Hao's tomb, the only pyramid in China built with square stones.
Qufu was the hometown of Confucius (551-479 B.C.), the celebrated thinker, philosopher and educator of the Spring and Autumn Period. For twenty-five centuries, he has exerted profound influence on Chinese society with his ideas right up to the present century. As the para-religious cult which came to embrace his thinking grew, shrines and temples were erected to his memory in Qufu. Among more than three hundred historical sites here, the most famous are Temple of Confucius (Kongmiao), Confucius Mansion (Kongfu), and Forest of Confucius (Konglin).