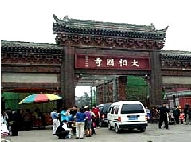 Xiangguo Temple (Prime Ministerís Temple) was first built in 555 AD, during the Northern Qi Dynasty (550-577 AD), when Chinese Buddhism was at one of its peaks in history. Since then, the temple has had its ups and downs, in close relation to the fortunes of the city that surrounds it. The temple has all along retained, however, great significance as an academic institution with the people in central China.

The temple developed its role as one of the main Buddhist centers in China during the Tang Dynasty (618-907 AD), when the temple was bestowed with its present name by the emperor of the day.

Nowadays the temple resembles the rebuilding that was made during the Qing Dynasty, 1976, although restoration has taken place many times since then. The temple has also been affected by modern commercialism, and the entertainments center in the front courtyard is the worst of this.