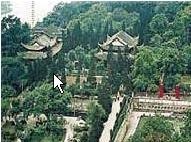 The park is at the foot of Jinyun Mountain north of the city. The quiet place has many springs and valleys as well as temples of Ming and Qing dynasties (1368-1911). The Guanyin (Bodhisattva) Palace was built with iron tiles and stone pillars. There are also a stone Buddha of the Song dynasty (960-1279), and a dragon pagoda of the Ming dynasty (1368 -1644).

Fifty-five kilometers northeast of the city, overlooking the Jialing River, the Northern Hot Spring are in a large park which is the site of a 5th century Buddhist temple.

The springs has an Olympic-size swimming pool where you can bathe to an abdience. there are also private rooms with hot baths- big tubs where the water comes up to your neck if you sit and up to your waist if you stand. Water temperature averages around 32C (89.6F). Swimsuits can be hired here - they're coloured red, symbolizing happiness. There's another group of springs 20km south of Chongqing with hotter waters, but the northern group is said to be better.