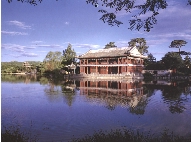 Chengde Imperial Mountain Resort was constructed during the reigns Emperor Kangxi and Qianlong. It took 89 years to complete. The resort is the largest imperial palace still remained in China. There are about 120 ancient architectures in the Mountain Resort, such as pavilions, halls, verandahs and garrets. It has the undulating mountains, tranquil valleys, vast grassland, lovely bird and deers, and rippling lakes that fully represent the supreme craftsmanship of classical garden construction. The resort possesses rich value of history and culture, and the unique artistic value of garden building.

Yan Yu Lou (Misty Rain Tower)

It imitated the Misty Rain Tower of South Lake in Jiaxing. When it rains, the scenery of the resort in the mist is just beautiful.

Mongolian Yurts in the Garden of the Ten Thousand Trees

It used to be the place for Emperor Qianlong to entertain chiefs of minor nationalities and foreign envoys, which is rebuilt as the Mongolian Yurts Hotel now.