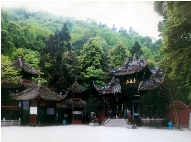 Mt. Qingcheng is located at the Dujiangyan scenery spot of Chengdu, Sichuan province. It is a famous mountain of Taoism. Surrounded by countless peaks and densely covered by ancient trees whose branches reaching the sky, the mountain was named "Mt. Qingcheng" (Green Town in Chinese). The mountain includes two parts-the anterior Mt. Qingcheng and the posterior Mt. Qingcheng. The anterior mountain is famous for its beautiful scenery and numerous cultural and historic sites; while the posterior mountain is noted for its paradisiacal scenery, primitive and brilliant, gorgeous and mysterious.

The famous scenic sites are: the Shangqing Palace, the Jianfu Palace, and the Tianshi Cave, ect. Among them, the Jianfu Palace, with extraordinary bearing, stands against the barranca under the Zhangren Peak. It was built in Tang dynasty, and repaired for several times in the successive dynasties, now only two halls and three compounds are preserved. In the left side of the Jianfu Palace is the princess of Mingqing mansion site. Going west for 1 kilometer, visitors can find the "the natural pictures". With the rocks uprightly standing, cloud and mist thickly wreathing, visitors often fancy that they are in pictures.

Two kilometers towards north comes the Tianshi Cave, the major temple of Mt. Qingcheng. According to legend, in the Eastern Han dynasty, Zhang Daolin had been here for preaching. In the Three Kings Palace, the main hall of the Tianshi Cave, the stone inscriptions of three kings of Tang dynasty were laid. The palace contains wood and stone tablets of past dynasties. The most famous include the Tang Xuanzong's imperial decree and Yuefei's handwriting of Zhu Geliang's Chushibiao, etc. Coming out from Tianshi Cave and passing the Fangning Bridge, visitors can reach the Zhushi Palace; unceasingly walk straight north is Chaoyang Cave; out of it, climbers could see the Shangqing Palace, which situates on a high platform. The Shangqing Palace was first built in the Jin dynasty and the extant temple was built during the reign of Tongzhi in Qing dynasty. There are stone inscriptions as "the fifth famous mountain under the sun", " the first peak in Mt. Qingcheng" and so on in it. With its annually average temperature of 15 centigrade, Mt. Qingcheng belongs to humid subtropical monsoon climate. It is reputed as "Dong Tian Fu Di" (means wonderful mountain and happy place), "the fairyland on earth".