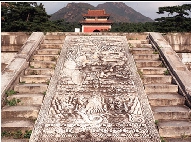 The Ming Tombs are located 50 kilmometers to the northwest of downtown Beijing. The burial ground of 13 emperors of the Ming Dynasty (1368-1644) is embraced by mountains on three sides and opening to a flat basin on the south. Mangshan and Hushan mountains rise on either side. The Wenyu River flows to the northwest. The whole area of 40 square kilometers is covered with ancient pine and cypress trees.

Changling, the oldest mausoleum in the center of the burial complex on Tianshou Mountain, was built in 1409 and Siling, the last mausoleum of the Ming Tombs, was built in 1644, 200 years after the first one. It was the most costly construction project with the longest time in the construction of imperial burial grounds in China. In those days the area with a circumference of several dozen kilometers was tightly guarded, giving it a myterious atmosphere.

In 1956 Chinese archaeologists excavated Ding ling, the tomb of Emperor Wen Li (Zhu Yijun) and unearthed 3,000 pieces of gold, silver, jade and precious stone except the confins of the emperor and his empresses. A museum was established at the site in October 1959. Since then the Ming Tombs have been a favorite tourist spot.

Stele Tower

The tower of multiple eaves with yellow glazed tiles keeps a 10-meter-high stone tablet sitting on a stone turtle with a dragon's head. The inscription on the tablet reads:" Divine merrits and holy virtues of Dingling". Four stone pillars carved with dragons and clouds stand on the four corners of the tower.

Divine Path

Flanking the 10-kilometerlong path are 18 pairs of stone sculptures of human figures and animals. The 12 standing human figures represent cicil and military court officials and the 24 animals are xie (a mysterious animal in Chinese mythology), camels, elephants, qilin (another animal in Chinese mythology) and horses.

Changling

The oldest tomb of the 13 Ming Tombs was built in five years for Zhu Li, the third emperor of the Ming Dynasty. Originally there was a wall around the mount with a gate. The Ling'en Hall, Ming Tower, Precious City and auxiliary establishments for sacrificial rituals and storage have remained.

A whole view of Dingling

Dingling at the foot of Dayu Mountain southwest of Changling is the 10th tomb of the Ming Tombs for Zhu Yijun, the 13th emperor of the Ming Dynasty and two empresses.

Entrance to the Underground Palace

There are seven entrances to the burial chamber underground. Each was blocked by a large piece of white marble. Those blocks of the front, middle and back entrances are the largest: 3.3 meters wide and weighing four tons. On the front side of each stone slab there are 81 knobs in nine rows. The stone door pannels are meticulously carved and closely fitted to the entrance.