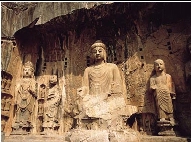 Luoyang with a history of nearly 5,000 years is located in the western part of Henan Province and to the south of the middle reaches of the Yellow River. It has a population of 800,000 in the city proper.
The ancient city of Luoyang is one of the seven ancient capitals of China and is included in a list of famous historical and cultural cities of China. Archaeologists have recently confirmed that Luoyang was the capital during the reign of 96 emperors in 13 dynasties over a period of 1,529years. The layout of Luoyang during the Xia (21th -16th century B.C.), Shang (16 th-11th Century B.C.), Zhou (11th century -256 B.C.), Han-Wei (206B.C.-220A.D.), and Sui-Tang dynasties (581-907 A.D.), displayed in Luoyang Municipal Museum, is known as "Five capitals Assembling in Luoyang". Today there are six major historical and cultural sites here under state protection. The Longmen Grottoes are one of the three major treasure houses of stone carving in China. The Baima Temple (White Horse Temple) was the first Buddhist temple established by the government after Buddhism started to spread in China. The "Forest of Guan Yu" is one of the three major memorial temples of Lord Guan. Mount Mangshan in the north suburbs is the site of China's largest ancient tomb group that consists mainly of imperial mausoleums, the oldest dating back to the Eastern Zhou Dynasty.
Luoyang boasts beautiful natural scenery, being surrounded by the Yellow River, the scenic Xiaolangdi Reservoir and the tomb of Emperor Guangwu of the Han Dynasty (206B.C.-220A.D.) to the north; Baiyun state Forest park and a limestone cave in the Jiguan Mountain that is called "the First Cave in North China" to the south; Songshan Mountain, one of the five sacred Mountains, and the shaolin Monastery to the east. The world-renowned Luoyang peony has been selected as the flower of the city.