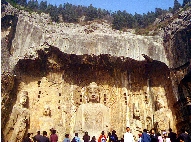 Located twelve kilometers south of Luoyang, the Longmen Grottoes are among the greatest treasure troves of ancient stone carving in China, together with Dunhuang in the northwestern province of Gansu and Yungang in the northern province of Shanxi.
The work on these grottoes began in 494 during the Northern Wei Dynasty and continued for more than four hundred years in te ensuing Sui and Tang dynasties. The grottoes are cut into precipitous cliffs on both banks of the Yishui River, and stretch for over a thousand metres from south to north. The existing 2,100caves and niches contain more than 100,000 statues of Buddhist figures in various postures, the largest rising over seventeen metres and the smallest only two centimeters. There are also 3,600 inscribed tablets and forty pagodas here.
The stone sculptures at Longmen represent a new height in the art of stone carving and the development of Buddhism in China. The largest Buddhist monastery at Longmen, the Fengxian Temple, in particular, contains the most exquisite works of art among the grottoes and represents the best stone carving techniques of the Tang Dynasty. It was built partly with the funds that Tang Dynasty Emperor Gao Zong(r.650-683) gave to his wife, Empress Wu Zetian for cosmetics.