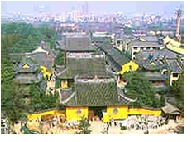 Located on the west bank of the Huangpujiang River south of Shanghai, they are a famous attraction in Shanghai.

Longhua Temple: Longhua Temple, first built in 242 A.D during the Three Kingdoms Period, is the biggest and oldest temple in Shanghai. The temple was destroyed and rebuilt for many times. The present temple was built during the reign of Emperor Guangxu of the Qing dynasty. Splendidly constructed, the temple, till today, still keeps the original feature of Buddhist "chan" sect of the Song dynasty. In the temple, Buddhist scripture, gold seals and Buddhist statues of Tang, Ming and Qing dynasties are kept.

Longhua Pagoda: Standing opposite the Longhua temple, the pagoda, according to historic documents, was built as early as the 3rd century. The present pagoda, which is octagonal and seven-storied with 40.64 meters in height, is the restoration in 977. Built of wood and bricks, this pagoda, with upturned eaves and hanging bells in eavesí corners, is the only pagoda in Shanghai city.

Till today, the temple, visited by large numbers of monks and laymen each day, is still flourishing. At night on every New Year eve the ceremony of "Striking the Longhua Evening Bell" is conducted here and is well known at home and abroad. Each time, large number of people, Chinese as well as foreign, come to listen to the ringing of the temple bell.