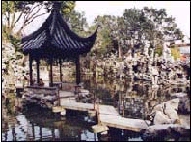 Located in the northeast part of Suzhou city, Lion Grove, with a history of 650 years, is one of the four most famous gardens in Suzhou (the others are: Canglang Pavilion, Garden for Lingering In and Humble Administratorís Garden).

Lion Grove was first built in 1342 during the Yuan dynasty by Monk Tianru and other disciples, as a memorial to their master, Monk Zhongfeng. Because there was a forest of bamboo, grotesque rocks resembling lions in the garden, and indirect reference to a Buddhist story of the lion, the garden was named as Lion Grove. Soon after its birth, the garden became a popular place for scholars at Suzhou to write poems and paint pictures. After the death of Monk Tianru, the garden declined and changed hands a number of times. In 1918 it was purchased and repaired by Pei, an industrialist. After the founding of the P.R.C, the garden was donated to the state.

With an area of 10000 sqm, Lion Grove boasts 22 buildings of varied types, 25 tablets, 71 steles inscribed with the handwritings of famous calligrapher, 23 brick carvings as well as 5 carved wooden screens.

Lion Grove has reputed as the "Kingdom of Rockery" for a long time. Covering nearly half of the total area of the garden, these rockworks, made from Taihu limestone (a kind of limestone produced in Lake Taihu), were ingeniously piled up in layers to form peaks, crags, valleys and caverns. Thereíre 9 mountain paths, 21 caves, and innumerable grotesque rocks, many of them resembling lions with different and striking poses, such as dancing lions, roaring lions, a couple of fighting lions, and lions playing with a ball.

Noted for its labyrinthine mountains with winding pathways and caverns, old pines and cypress trees, awesome peaks and jogged rocks of grotesque shapes resembling dancing lions with striking and unusual poses, it possesses with pride the true delights of mountain and forest scenery in limited space with a flavor of Zen Buddhism.

It was said that Emperor Qianlong had visited here for six times and wrote an inscription "Zhenqu" (True Delight) to describe the beauty of the garden, which is now hung on the True Delight Pavilion.