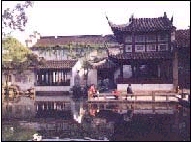 With an area of 23,310 sqm, Garden for Lingering In is the best garden in Suzhou as well as one of the four most famous gardens in China (the others are: Summer Palace in Beijing, Mountain Resort of Chengde and Humble Administratorís Garden in Suzhou). It is celebrated for its artistic way of dealing with the spaces between various kinds of architectural form.

Situated outside the Cang Gate of Suzhou city, the garden was built in the 21st year of the reign of Wanli (1583AD) by Xu Taishi, a bureaucrat, as his private garden-residence and named East Garden. According to what the famous literary man Yuan Hongdao (1568 - 1610) said in his A Record of Gardens, the East Garden at that time "has magnificent multi-storey front houses and rear halls, and a range of awe-inspiring stone mountains built by the well-known master Zhou Bingzhong, resembling a long scroll of landscape painting."

Later the garden belonged to the Lius in the 59th year of the reign of Qianlong (1794 A.D.) and was expanded, repaired, and renamed "the Hanbi Villa", while popularly known as "Liu Garden". In the 12th year of the reign of Tongzhi (1873 A.D.), it was purchased, expanded and repaired by the Shengs, who gave it a new name "Garden for Lingering In", since "lingering" in Chinese sounds similar to "Liu", the surname of the former owner.

Today the garden is separated into the eastern, middle, northern and western parts. The middle part features man-made mountain and lake scenery, resembling a long scroll of traditional Chinese painting. The eastern part is noted for its happy groupings of garden courts and elegant buildings, the western part the enchantment of woody hills, and the northern part cottages with bamboo fences and idyllic scenes.

Artificial hill made from Taihu rock is always the main component of Suzhou gardens. The 6.5-meter-high Cloud-Capped Peak in this garden, as the highest limestone in classical gardens of Suzhou, is believed to have been left behind by the imperial collector of the Northern Song dynasty. Weighed about 5 tons, the limestone is supposed to have been carried from Taihu Lake, 40km away from Suzhou city.

Besides, the number of stele in Garden for Lingering In has never been surpassed by any other gardens in Suzhou. Superbly inscribed with the works of over 100 calligraphers in the Jin, Tang, Song, Yuan, Ming and Qing dynasties, these invaluable steles bring to light the evolutionary course of Chinese calligraphy in the past 1,000 years.

Garden for Lingering In is characteristic of the classical gardens in the south of the lower reach of Yangtze and in1961 it was listed as cultural relics of national importance.