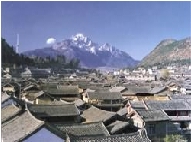 Lijiang, the district's government seat, is an old city in beautiful surroundings in northwest Yunnan. It is situated on a plateau at an elevation of 2,600m and is impressive because of its scenery and lush vegetation.

The people of Naxi, while developing their land of snow-clad mountains and turbulent rivers since ancient times, have to their credit the "Dong Ba Culture" seen as one of the world wonders, a culture all-embracing while unique.

Lijiang Town is officially called "Dayan Town"-- "Dayan" literally means a "great inkstab", a graphic description of the town's location on a piece of rich flatland fed by a river and surrounded by green mountains. There is no other town in China like Dayan which incorporates the folkways of so many people and the architectural styles of both north and south China. Some say that Lijiang is not unique just because it is unique in too many ways-- how true this is.