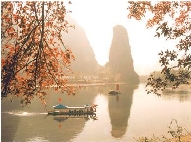 The crystal clear Li River is sand witched between precipitous peaks hung with waterfalls. Among poems singing the praise of its beauty are these tow lines: "He who travels in Guilin hills finds himself in a fairyland", and "He who sails along the Li River finds himself boating in a sweet dream." On the 83-kilometer riverbank form Guilin to Yangshuo line numerous natural wonders, which have inspired the saying: "Guilin has the most beautiful scenery in China, and Yangshuo is the most beautiful part of Guilin."

The Li River, which runs through the center of Guilin, is a complimentary attraction to the peaks and a setting for displays of cormorant fishing.Fishermen on bamboorafts use strong lights suspended over the water to attract the fish. The cormorants, which are tethered with rings round the base of their necks, catch the fish and then disgorge them for the fishermen (until their work is done nad the tings are removed so they can eat). These shows are regular features of the high season, or they can be arranged , along eith riverboats for an evening's entertainment afloat.

Also there is the Li River tour, which no one should miss. Depending on the season and level of the water, the your boats depart from piers downstream from Guilin and disembark passengers in Yangshuo, a journey of about three hours. Enroute there is a fantastic parade of peaks, to which the Chinese have fiven descriptive names like Wave Crag, Miller at Work Hill, White Horse Cliff and Five Tigers Catch a Goat Hill.