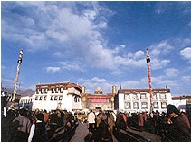 Located midway along Octagonal Street, Jokhang Temple (the name means "assembly place" in Tibetan) is where lamas gather to lecture on Lamaist doctrines in the first month of the lunar calendar each year. With its round golden roof and two golden goats holding glittering wheels at the top of the main gate, the four-story hall is a magnificent sight.
Jokhang Temple was built over 1,300 years ago. Legend has it that soon after King Songtsan Gampo and Princess Wen Cheng were married, they joined others to select the site and design the monastery. As a symbol of the cultural exchange between the Tibetan and the Han, it was built jointly by Tibetan workers and the artisans brought along by Princess Wen Cheng from inland China.
The overall architectural style of the monastery imitates Tang architecture, especially in the style and arrangement of columns and crossbeams, upturned eaves, and corbel brackets. However, it also contains architectural characteristics of Nepal and India. For example, in the inland temples, statues of Buddhas are usually placed on high platforms, where workshippers cannot see them unless they raise their heads. The platforms here are rather low, however, making it easy for worshippers to touch the statues of Buddha and ask for blessing.