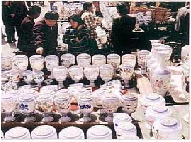 This city on green hills in northeastern Jiangxi Province is world famous for its elegant china. Known as Xinping in ancient times, the city began to make porcelain as early as the Han Dynasty around 200 B.C. During the reign of the Emperor Jing De (1004-1007) of the Song Dynasty, all the products made here bore the reign mark of "Jingde," and the name of the city was therefore changed to Jingdezhen (Zhen in Chinese means town). It became a national porcelain-producing center in the Ming Dynasty; its products, estimated at hundreds of thousands of pieces every year, were exported to many other parts of the world. The number of kilns at that time ran to several hundred. Four kilometers southeast of the city are the ruins of the Hutian kiln, built during the Yuan Dynasty. Pieces of the blue and white porcelain ware first made in that period were discovered in the ruins of this kiln, which covered some forty square metres.

The china produced in Jingdezhen in one incidence id described to be "as white as jade, as thin as paper, as bright as a mirror." It makes a bell-like sound when struck. The products are beautifully designed and richly decorated with mostly traditional designs. Varieties include the well-known blue and white porcelain and another type produced by putting openwork decorations under a thin layer of bright glaze to intensify the effect of transparency and delicacy.

Jingdezhen's products are exported widely to more than a hundred countries.