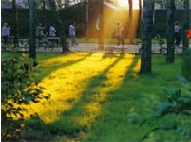 Jinan, capital of Shandong Province on China's east coast, is the province's political, economic and cultural center.

Jinan has jurisdiction over five districts (Lixia, Licheng, Huaiyin, Tianqiao and Shizhong), four counties (Changqing, Pingyin, Shanghe and Jiyang) and Zhangqiu City, with a total area of 8,227 sq. km and a population of 5.49 million, including 2.54 million urban people.

Located in the western part of the center of Shandong Province, Jinan is at the juncture of the Beijing-Shanghai and Qingdao-Jinan railways. Nearby to the south is Mount Tai, officially recognized by the United Nation as part of the world's natural and cultural heritage. To the north is the Yellow River, which is called the "cradle of the Chinese nation."

With a warm-temperate continental monsoon climate and clear-cut seasonal changes, Jinan has an average annual temperature of 14 C and an annual mean precipitation of 650-700 mm.

Thanks to its long history, Jinan has been designated by the State Council as a famous historical and cultural city. As Jinan boasts a number of natural springs amid picturesque scenery, it is known as the "City of Springs." The city tree of Jinan is the willow, and the city flower is the lotus.