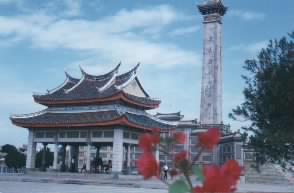 At the northern end of the Gaoqi-Jimei Sea Dyke lies the town of Jimei. Encircled by the sea on three sides, the town is known for its magnificent buildings and picture-postcard scenery. Jimei is the hometown of Tan Kah-kee, who founded Xiamen University in 1913. He then went on to build a kindergarten, a science centre, a library and several other schools teaching various subjects, turning Jimei from a rural village into a sizeable town whose total student population of more than 100,000 exceeds that of the local residents. As a tourist site, Jimei has the following attractions to offer: Aoyuan (Turtle Garden) Situated on the southeastern tip of Jimei Town, Turtle Garden includes a 50-metre-long corridor, a monument and the Mausoleum of Tan Kah-kee. The walls on both sides of the corridor have carvings of more than 40 pictures relating the lives of historical figures. A pagoda-shaped stone monument is erected in the centre of the garden. On the stone railings are relief sculptures depicting the life of this great patriot.

Yanping Fortress General Zheng Chenggong built this granite fortress atop an overhanging cliff over-looking the sea on the southern side of Jimei Town. The site now lies in ruins except for one solitary door and a rusty cannon.

Xiamen Sea Dykes Xiamen is linked with the mainland by the Gaoqi-Jimei and Jimei-Xinglin Sea Dykes. Both dykes are open to traffic and are used by trains, automobiles and pedestrians. In 1991 a new highway bridge was built to the northeast of the Gaoqi-Jimei Dyke, and is the first land-sea bridge in China.