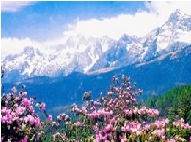 Jade Dragon Snow Mountain, located 15km north of Lijiang city with an altitude of 5600 meters (18,400 feet) above sea level, is the highest mountain on the southern bank of the Yangtze River.

There are totally 13 snow-covered peaks in this mountain. Storms frequently rage on this mountain and snow-white is the main rhythm of this mountain. Shanzidou Peak, the main peak of the mountain, with an altitude of 5,596 meters above sea level, is especially clad in white snow all the year round.

The mountain extends 35 km from south to north and 12 km from west to east, producing different altitudes in the mountain. Owing to conspicuous three-dimensional climate caused by different altitude, various trees and rare animals living in different climates can live together in this mountain It is estimated that half of Yunnan's 13,000 plants species, 400 kinds of trees, dozens of flowers types, and one-third of China's known species of medicinal herbs can be found here.

When the spring comes, the mountain bursts into bloom when the camellias, rhododendrons, and azaleas start flowering. Herders take their cattle, goats, sheep, and yaks to graze on its slopes. In autumn, a portion of the pines turns amber yellow, while the leaves on deciduous trees present patches of orange, bright yellow, and scar.

The mountain is a holy mountain for the Naxi (also spelt Nakhi and Nahi) people, a soul of the tribe. Allegedly, the Naxi tribe believed that their Genius "Sanduo" was the god of mountain, living on the Jade Dragon Mountain. Legends say whenever the Naxi people fought with their enemy, he always appeared, with white face like the snow, wearing white helmet and white armor, riding a white horse, holding a white spear, to help the Naxi soldiers to defeat the enemy. Naxi warriors must sacrifice the "Sanduo" god before they went to battle. On the slope of the mountain lies a "Sanduo Temple" where the Genius "Sanduo" of the Naxi people is worshipped.

The mountain is also a holy mount of love in the eye of the Naxi people. In the past, many Naxi lovers who tried to get rid of the shackle of arranged marriage and feudal ethics, in belief of "would rather die for freedom than live in distress", went to the mountain to sacrifice their young life for ideal love. They saw the mountain as their final setting place for themselves and for their love.

Access to the top of the mountain is provided by a cableway from the foot of the mountain to Dragon Spruce Meadow. Seen form Lijiang city, the mountain, with its main peak thrusting into the clouds, appear magnificent and sublime. Now, the mountain has become a nice place for snow sightseeing, mountaineering, explorations and scientific investigation.