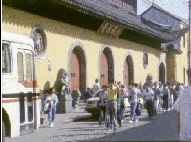 Jade Buddha Temple, the most famous Buddhist temple in Shanghai, is located in west part of the city. In 1882, a monk named Huigen left two of five jade Buddha statues brought from Burma in Shanghai and built a temple there to keep them. In 1918, the old temple was burned down and a new one was built in present site and named Jade Buddha Temple.

Still inhabited by monks, the temple consists of three main halls and two courtyards.

The first hall is Tianwang Dian Hall where statues of the four celestial kings and Maitreya are enshrined. It was said that the Maitreya in fact is the Budai Monk. In 916, before his death, he had told people that he was the reincarnation of the future Buddha Maitreya. Later, people called him Buddha Maitreya and began to worship him in temples.

The second hall is Daxiong Baodian. Three large gilded Buddha statues: the Buddhas of the past (Bhaisajya-guru), present (Sakyamuni) and future (Maitreya) are kept in the hall. The one in center is Sakyamuni, east of it is Bhaisajya-guru and west Maitreya. 18 gilded Luohan statues stand around them.

After visiting the Daxiong Baodian, people reach Jade Buddha Tower. A jade Buddha, which is 1.9m tall and 1.34m wide, stands on the second floor. Inlaid with diamonds and agates, the jade Buddha is sitting leisurely at the moment of his enlightenment. And in a hall on the western part of the temple grounds lies a 96-cm-long recumbent jade Buddha. Both these two Buddha statues were carved out of a single piece of white jade.

Besides, Buddhist sculptures and classics are housed in the temple.