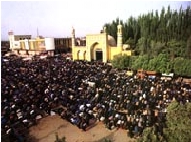 Located in the center of the city, this grand Islamic structure is a stark contrast to the many Chinese-style mosques in Xi'an. This yellow-and-white structure has a central dome and flanking minarets, which usually associated with mosques in Pakistan or Afghanistan. Shakesimirzha, a ruler of Kashgar, had the mosque built here first in1442 and it was extended to its present shape through several renovation work.

The largest in China, it attracts as many as 10,000 worshippers at prayers on Friday afternoon. The different buildings consist of Hall of Prayer, Doctrine-Teaching Hall, a gate tower, a pond and some auxiliary rooms.

The gate is the most eye-catching. On top of the gate stand a tower where the imam would call out loudly at dawn to wake up the Muslims and summon them to attend service. In the tree-graced courtyard, there is a pond, and on its bank many pottery pots are placed, which are to be used by the Islam believers to clean their bodies. The main hall was built of timber framework with a decorative wooden ceiling. Exquisite wooden carvings and colored paintings reveal the essence of craftsmanship. The hall is supported by 140 carved wooden pillars. A stepped throne is enshrined into the central wall. During service, the First Maola leads the prayer in the shrine. And on Fridays or Corban, the First Maola conducts "Wa'z", standing on the steps of the throne. After entering the main hall, the followers would seat themselves facing west both inside and out, in proper lines.

The mosque is one of the liveliest places to be during the Korban festivities.