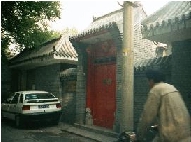 Hutong refers to the ancient alleys and lanes typical in Beijing. It is a term passed down from history, believed to be a Monglian word from the times of Changkis Kan, who built Beijing as the capital of the Mongolian Empire (1206-1341).

Hutong runs into several thousand, surrounding the magnificent royal tempeles and palaces in Beijing, quietly demonstrating the life of grass-root people in this ancient city through the history.

One kind of hutong, usually referred to as the regualr hutong, was near the palace to the east and west and arranged in order fashion along the streets. Most of the residents of these hutongs were imperial kinsmen and aristocrats. Another kind, the simple and crude hutong, was mostly located far to the north and south of the palace. The residents were merchants and other ordinary people.