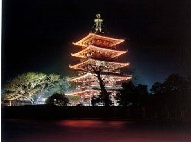 Hanshan Temple is located in Maple Bridge town in the west outskirts of Suzhou, 1 kilometer west of the Garden for Lingering In. It was first built in the Tianjian period of the Liang dynasty (502-557) with the name of Miaolita Yuan (Miaolita Temple). During the Tang dynasty (618-907), a famous monk named Hanshan was said to have been lived and in charge of the temple. Then the name was changed to Hanshan Temple.

The temple used to be one of the ten most famous temples in China. The poem of "A Night Mooring by Maple Bridge" by Zhang Ji, a famous poet of the Tang dynasty, is so oft-quoted and widely loved that the poetic rhyme and the bell-tolling sounds have made the Hanshan Temple celebrated at home and abroad.

Destroyed and rebuilt for many times, the present complex mainly dates from the Qing dynasty at the time of Emperors Guangxu and Xuantong. Covering an area of 45 hectares, the main architectural structures in this temple include the main hall, the hall with a circular gallery, the sutra library, the bell tower, a pavilion tower known as Maple River Tower, etc.

Bell Tower is an important component in Hanshan Temple. The bell mentioned in Zhangji's poem has long been lost and the present one was made in 1906 during the Qing dynasty. When the bell is tolling, the deep strokes reverberate in the halls, mixing with the deep-toned chants of the monks and evoking thus solemn and reverent feelings in all that are present.

According to Buddhist legend, each layman has 108 vexations per year and each bell toll can help people dispel a vexation. Hence, listening to the bell tolls of the Hanshan Temple on the New Year's Eve has been an exceptionally grand occasion since 1979. On every New Year's Eve, thousands of visitors at home and abroad gather inside and outside of the temple to listen to the one hundred and eight bell tolls and pray for luck and happiness in the new year.

In the temple are cultural relics including a stone tablet inscribed with the poem "A Night Mooring by Maple Bridge" of Zhangji, stone carvings and a large number of steles.