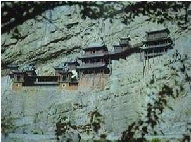 Lying outside the town of Hunyuan, the Hanging Monastery is 75km southeast of Datong. It was built on sheer cliffs above Jinlong Canyon with a history about 1400 years. On the base of the natural hollows and outcrops along the contour of the cliff, many halls and pavilions were built, which are connected each other by corridors, bridges, boardwalks.

The most important building is the Three Religions Hall where Buddha, Laotzu and Confucius sit side by side. In recent years, the hall has been repaired and some sections of it have been closed to outside.

You can also take a public bus or private bus from Datong to Hunyuan, just 5 km from the Hanging Monastery. Public buses to Hunyuan leave from the old bus station at 7:30 am.