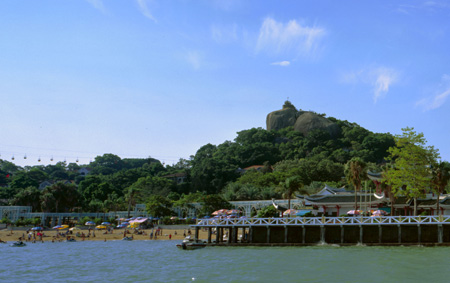 The 1.78-square-kilometre Gulangyu Islet in the southwestern corner of Xiamen is a major scenic spot in Fujian, with serene beauty, a tranquil atmosphere and buildings in various architectural styles tucked away in the shadows of green trees. The air is fresh, the din of traffic is a sound practically unknown to local islanders, and there is plenty to see and do on this small island.

The four-kilometre-long ring road is flanked on one side by the beach and on the other by a string of bungalows built in English, French, German, Japanese, Spanish and Chinese styles. Strolling along the road one can see islets, bays, flowers, trees, pavilions and terraces.

This is on the highest point of Gulangyu and is accessible only by a "sky ladder" - a steep trail which also takes one to Riguang Temple, the Ancient Summer Cave and the platform where General Zheng Chenggong (Koxinga) reviewed his naval force. Sunlit Rock provides a panoramic view of the booming metropolis of Xiamen. Right below Sunlit Rock stands the Zheng Chenggong Memorial Hall, where the life of the general is relived through more than 300 cultural relics, historical documents, photos, sculptures and scale models, on display in seven showrooms.