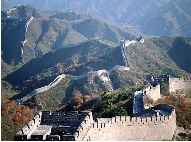 The Great Wall was a gigantic defence work during ancient China. Seperate walls were built in the 7th century B. C. by small warring states. After the unification of central China, Emperor Qin Shihuang ordered in 214 B. C. to link up those walls in the north to prevent the Huns from coming to the south. The construction continued over 10 years. The Great Wall undertook 18 major repairs and extensions over 200 years during the Ming Dynasty (1368 - 1644). It runs 6, 700 kilometers from Jiayuguan Pass in Gansu Province in the west to Shanhaiguan Pass in Hebei Province in the east over six provinces and Beijing and passes through high mountains, broad grasslands and immense deserts. Most of the Great Wall has remained in good conditions.

The section of the Great Wall at Badaling in Beijing is now a famous tourist attraction. It is 8.5 meters high with breast work of one meter high and 5.7 meters wide at the top.

Juyong Pass

A point of strategic importance on the road between Beijing and Inner Mongolia, it is located between two sheer mountains. " Piled Emerald at Juyong" was one of the Eight Grand Sights in Beijing during the Liao Dynasty.

Great Wall at Badaling

The section of the Great Wall runs up and down a mountain ridge. Four watch towers rise majestically on top of peaks to its north and south.

Great Wall at Mutianyu

Great Wall

In 1368 General Xu Da of the Ming Dynasty built the Great Wall from Shanhaiguan to Mutianyu. The part in Mutianyu, 70 kilometers from Beijing City, is well known for its dangerous terrain and beautiful surroundings.

Simatai Fort

Built during the Ming Dynasty, fort had submerged in water long time ago. Not far from it is the immense Miyun Reservoir. The Great Wall undulates gracefully among high mountain peaks. The picture shows the " Two Dragons Playing with a Pearl" at Simatai.