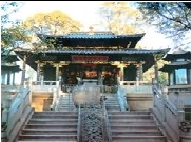 This unique Daoist temple lies 11 kilometer (7 miles) northeast of Kunming. By car, it is 10 kilometers (6 miles) from Black Dragon Pool, heading southeast on Longtou Jie. Situated in a pine forest atop Phoenix Song Mountain, the temple requires a climb up a very long flight of stone steps, punctuated by three Heavenly Gates. A fourth gate brings visitors to the entrance of the temple grounds.

Gardens and galleries flank a central path leading to a miniature, medieval city wall complete with a typical gate tower, bell tower and drum tower. Inside, on a terrace of finest Dali marble with elegantly carved railings, stands the little copper temple itself. In Chinese it is still known as the Golden Temple because, when first built, the burnished copper gleamed like gold.

In 1604, the governor of Yunnan and some powerful nobles wished to honor the Daoist hero-god Zishi, who was supposed to live at the northern extremity of the universe. They built the Copper Temple to represent his city-palace there. Three decades later, the temple was transported intact to Jizu Shan (Chicken Foot Mountain), s holy mountain in western Yunnan. In 1670, a duplicate temple was cast in deliberate defiance of China's new Manchu emperor, to whom the copper was owed as tribute. This second temple was destroyed in the mid-19th century during Yunnan's great Muslim rebellion. A new temple was built from parts of the duplicate in 1890. The walls, columns, rafters, roof-tiles, altar, altar-hangings, even the banner near the gate tower, are all make of copper. The whole structure weights more than 300 tons and stands 6.5 meters ( 21 feet) high.

Outlying buildings, containing art galleries and a teahouse, are not of great interest. At the summit of the mountain behind the temple, a bizarre, ugly tower, built in 1984, holds a giant bronze bell, so massive that its rim is a full hand span in thickness. Its decorations identify it as a Buddhist relic, not originally a part of this Daoist temple. The high camellia tree near the temple is 600 years old; in the month of February it produces hundreds of magnificent red blossoms- a sight that should not be missed by late-winter visitors to Kunming.