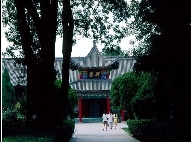 Once the Temple of Confucius, the Forest of Steles at Sanxuejie Street nearby the South Gate in Xi'an was originally built in Northern Song dynasty (1090 A.D.) when a large Confucian collection of steles cut in A.D. 837 - the oldest existing texts of the Confucian classics - was moved here for safekeeping. It gained the present name in the 18th century and boasted the largest collection of its kind in China.

The contents of the Forest Steles can be divided into four groups: works of literature and philosophy, historical records, calligraphy and pictorial stones.

One of the more striking exhibits is the Forest of Steles, the heaviest collection of books in the world with the earliest of these more than 2,000 large engraved stone tablets dates from the Han dynasty. Most interesting includes an enlargement to the Confucian Classics stone inscriptions in the Tang dynasty. With the successive collections of Steles in the Song, Jin, Yuan, Ming and Qing dynasties, it was gradually renovated and expanded like a forest of steles. The Popular Stele of Daiqin Nestorianism, which can be recognizable by the small cross at the tip and engraved in 781 A.D. marks the opening of a Nestorian church. The Monk Bu Kong Stele in Tang dynasty (A.D. 781) is noteworthy for its Buddhist value.

Collections here are also of high value for exploring Chinese calligraphy history. Here stand the many tablets engraved with works of many outstanding calligraphers through ages. Chinese calligraphy boasts a long history in five basic script forms, namely: seal script, clerical script, regular script, running script and cursive script. Through more than 5,000 years of creative work various forms have constituted the abundant treasure and unique traditions of Chinese calligraphy. The typical includes the Cao Quan Stele, written in Han clerical script famous for its elegant, ingenious inscription; The Tang dynasty witnessed the prosperous period with noted distinctive styles of regular script. The most distinguished Tang stele is "the Preface to the Holy Buddhist Scriptures" in the handwriting of Wang Xizhi, a famous Jin calligrapher. Some poems of calligraphy are also collected here.

The Stone Sculpture Gallery

The Stone Sculpture Gallery, which was built in 1963, nearby the Forest of Steles has a collection of about 70 scultures and relief carving of unparallel quality. The famous exhibits are the six bas-reliefs, four of them original, form the Zhaoling, the Mausoleum of Emperor Tang Taizong. A reproduction of the horse from the tomb of " Swift Cavalry General" Huo Qubing also stands here. At the end of the gallery are some Buddhist statues, of which the most famous is a very beautiful torso of a bodhisattva, showing strong Indian influence from the Tang period.