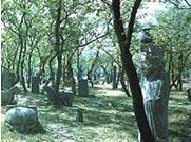 Located to the north of the town of Qufu County and occupying two hundred hectares, the forest serves as the cemetery of Confucius and his descendants. The ancient trees in the cemetery are said to have been brought here by Confucius' disciples from their hometowns after his death. There are more than twenty thousand trees inside the cemetery, which shade the tombs and tombstones. There are many historical sites in the forest commemorating the visits of emperors of various dynasties who came to pay tribute to Confucius and his descendants.
There are many historical sites in Qufu as well, including Duke of Zhou Temple (Zhougongmiao), Mother of Mencius Woods (Mengmulin), Duke of the State of Liang Woods (Lianggonglin), and the ruins of the old city of the Ducal State of Lu. All are now open to visitors after undergoing renovation.
Qufu has fairly complete tourist facilities, and an increasing number of visitors come here every year.